Introducing FXR's Infinite Neck Warmer 
SPECS:
•Soft acrylic tube knit
•Embroidered logos
---
Introducing FXR's 2 Piece Dri-Link Monosuit
SPECS:
Technology
ACMT™ Advance Climate management Technology System
Shell - Durable, poly shell with W/P/B
HydrX Pro™ laminate
Lining - ACMT™ Seam-Sealed Lining
System with HydrX Pro™ and integrated venting
FXR Dry Vent™ System - Snowproof and Moisture resistant chest, side body and leg vent system
FXR Dry Link™ System - 360° zipper links the windskirt to the pant.
Features
ACMT™ - 20,000mm/8,000g/m2
Zippers - HD #8 waterproof throughout
Adjustable Windskirt - New, improved snow and wind protection
Reflective - Reflective prints front and back
Google Wipe - Detachable goggle wipe chamois
Collar - Shock-cord adjustable
Bottom Hem - Shock-cord adjustable
Hood - Removable, adjustable
Cuffs - Adjustable cuffs with Lycra inner cuff extensions
Padded knees
Dry Seat and knee inserts
Removable/adjustable suspenders
Adjustable hem
Reinforced  instep and hem
Storm cuffs with boot lace retention
Snaps
Back leg hem length adjusters
Reflective screens
Jacket and Pant can be worn separately or zipped together as monosuit
Last season the innovative 509 Altitude snow helmet took the moto and SxS industries by storm. Described as a sleek yet aggressive helmet, it is packed with industry-leading features. Despite the rave reviews and success of this helmet, we went back to the drawing board and asked, "How can we improve?" The result….CARBON FIBER! You heard correctly. All-new for 2016 is the full Carbon Fiber Altitude snow helmet the same fit and function you've come to expect, now crafted from one of the strongest materials on the planet. Strength aside, the Carbon Fiber Altitude is noticeably lighter than its thermoplastic counterpart. If you are looking for the very best snowmobile helmet, look no further than the All-new 2016 509 Carbon Fiber Altitude snow helmet.
What Is MIPS?
In a helmet with MIPS Brain Protection System (BPS) the shell and liner are separated by a low friction layer. When a helmet with a MIPS Brain Protection System is subjected to an angled impact, the low friction layer allows the helmet to slide relative to the head. The MIPS BPS is designed to add protection in helmets against the rotational motion. The rotational motion isa combination of rotational energy (angular velocity) and rotational forces (from angular acceleration) that both affects the brain and increases the risk for minor and severe brain injuries. MIPS BPS has been proven to reduce rotational motion when implemented in a helmet by absorbing and redirecting rotational energies and forces transferred to the brain.
Patented System
A helmet with the MIPS Brain Protection System offers better protection against rotational motion than one without MIPS. Since 1996 research and tests have been performed to compare a helmet with the MIPS Brain Protection System to a conventional helmet. The results showed that it was possible to redirect and reduce the rotational motion transmitted to the brain by adding the MIPS Brain Protection System.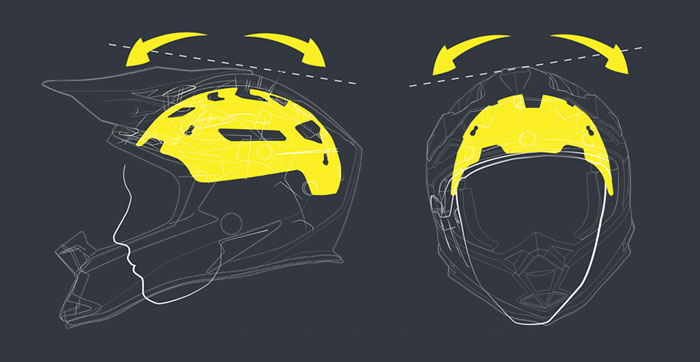 The Great Misconception
Accident statistics show that many injuries occur due to angled impact to the head. However, in standard tests, the helmet is dropped vertically onto a flat surface. The results are helpful for measuring precise vertical impacts, but inferior for measuring the more realistic scenario of an angled impact. MIPS has been developed for reality and increases protection against angled impacts.
Safety
The Altitude snow helmet meets or exceeds DOT and ECE 2205 safety certification standards. It features an innovative dual density, interlocking EPS foam liner that provides top crash protection in the event of an accident. The front chin area of the helmet is protected by a specially designed expanded polyurethane chin insert that provides front impact protection. The outer shell is made of specially designed carbon fiber for maximum shell strength with minimal weight.
Performance
In addition to its safety accolades, performance was a key focus during the development process. Innovative aerodynamic channels run across the entire contour of the helmet. These channels are integrated directly into the shell and direct adequate air flow into the specially designed vent scoops. The Altitude snow helmet features 6 integrated vent scoops that provide necessary ventilation to keep you comfortable when riding. Overall, the Altitude features 8 intake/exhaust vent ports. The unique aerodynamic visor features a locking-top center mount that holds the visor in place and prevents unwanted visor movement.
Fidlock® Magnetic Clasp
Additionally the Altitude features the all-new Fidlock magnetic buckle system. This patented technology used a magnetic mechanical fastener for simple securing of the helmet strap. The buckle and snap are magnetically attracted, creating a high locking force that is much easier to use that a traditional "D-ring" strap. The Fidlock buckle passes both DOT and ECE standards with its metal to metal connection points when secured.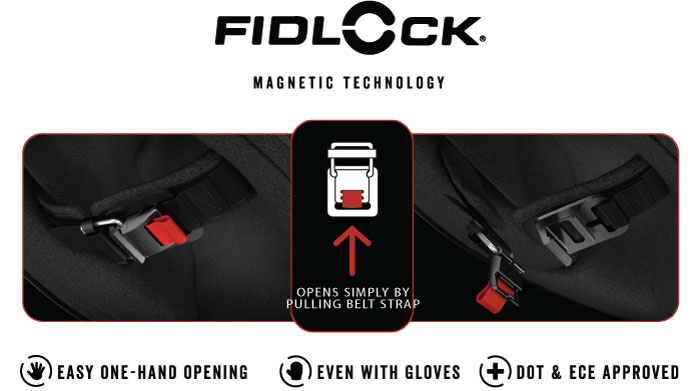 Fit
The Altitude helmet was designed with two key fit metrics in mind: Rider fit and Goggle fit. First, we created a custom interior EPS matched with a premium removable liner. The Carbon Fiber Altitude helmet with MIPS is available in 6 sizes from XS to 2XL. These 8 sizes are carefully designed across 4 outer shell molds - our competitors only use 2. This provides a precision fit, while minimizing overall helmet circumference. The neck brace ready, contoured shell base provides a comfortable, yet snug feel when putting the helmet on. When the helmet is fully in place it provides an unmatched comfort fit that prevents unwanted helmet movement. The eyeport of the Altitude snow helmet was carefully crafted to fit our 509 Sinister MX-5 and Dirt Pro goggles perfectly, further improving our world famous "509 helmet and goggle combo" fit.
Replacement lenses for the 509 Aviator goggle
SPECS:
Anti Fog Technology:
We have worked closely with an industry-leading anti-fog hard coatings company to develop a proprietary, goggle specific, anti-fog technology. We also tirelessly sourced the most durable, scratch resistant lens materials as well. The result is an innovative Italian-sourced lens. This new technology provides an unmatched anti-scratch rating for both the inner and outer lens.
Aviator Lens Conditions:
Blue Mirror/Blue Tint - Sunny
Blue Tint - Cloudy, Low Light
Bronze Mirror/Smoke Tint - Partly Sunny
Chrome Mirror/Yellow Tint - Sunny
Clear Lens - Cloudy, Low Light
Fire Mirror/Clear Tint - Cloudy, Low Light
Fire Mirror/Rose Tint - Sunny
Fire Mirror/Photochromatic Orange to Dark Blue Tint - Partly Sunny, Adjusting Tint
Gold Mirror/Yellow Tint - Sunny
Green Mirror/Rose Tint - Sunny
Green Mirror/Yellow Tint - Sunny
Green Tint - Cloudy, Low Light
Orange Tint - Cloudy, Low Light
Photochromatic Clear to Blue Tint - Partly Sunny, Adjusting Tint
Photochromatic Polarized Light Smoke to Dark Smoke Tint - Partly Sunny, Adjusting Tint
Pink Mirror/Rose Tint - Sunny
Polarized Bronze Tint - Sunny
Polarized Smoke Tint - Sunny
Polarized Yellow Tint - Sunny & Partly Sunny
Red Mirror/Rose Tint - Cloudy, Low Light
Rose Tint - Cloudy, Low Light
Smoke Tint - Cloudy, Low Light
Yellow Tint - Cloudy, Low Light

509 Vis Tee keeps you comfortable and looking great all day in this fabulous T-shirt.
Available in Teal and Yellow
Sizes S-3XL
BCA Float Compressed Air Cylinder
Sold separately. Includes Consumer Refill Kit. The Float Compressed Air Cylinder is the power and driving force behind our Float System. When the Float trigger is pulled, it activates the release of 2,700 psi of compressed air, inflating the airbag. Always make sure your cylinder is full and hooked up correctly before heading out. Shipped full unless otherwise noted . weight :: 1.3 pounds / 590 grams. Hazmat fee will be charged, unless picked up in person in store at that time the fee would be refunded.
SHELL

DOT from 1270g
ECE from 1300g
"Super Lite" Composite Fiber Shell
Constructed From Aerospace Grade
Carbon Fiber, Kevlar, And Fiberglass

VISOR

Ultra Hi-Flow Visor Protects From Snow & Roost
Glove Friendly, Lightweight, 3-Point Visor Screws

PROTECTION

Dual Density EPS Liner
Rear Diffuser Transfers Impact Load To Compatible Neck Braces
Extended Rubber Nose Frost And Roost Guard

COMFORT

Excellent Fit On Any Head
Progressive Density Cheek Pads
10 Intake Vents & 4 Exhaust Ports
Integrated Removable Breath Box
Hygenically Treated, Removable, Washable Comfort Liner
Quick-Release Buckle